About a week ago, I asked my wife something that had not occurred to either of us, until that moment, and it has fascinated me how it has fallen through the cracks of news media.
When was the last time you saw a BLACK Russian in any news media, tv show, movie, fashion, etc?
How it it that we focused on the White Nationalism of Hitler in the 1940s but have almost completely missed the PRESENT White Nationalism by Russians, today. Consider these other cited photos that come up when I just put in "russia people pictures" in Google...
But, what's more, I think it's not that the American and Western media does not KNOW about the stark WHITE ness, they present it in their own depiction OF them. Consider this picture of "russian brides" presented in a Russia language site...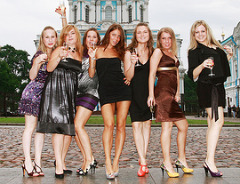 And a news media story of Russian gang members attacking people in England..
I mean...WTF... how more WHITE can you get? It's like Charlotteville in that picture, and no one notes that they are ...um...WHITE?
So, while we are debating if Trump is a reflection of a German racist government from a half century ago, he is very NOTABLY financially backed, hacked supported, and politically aligned with a racist fascist power in the world, today, and no one is saying a word about it.
Shame on you.